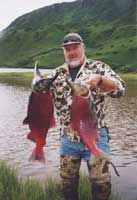 Winner of Two Best of Show Awards

Garry has been a self taught professional taxidermist for more than 40 years. He has collected specimens and references from all of North America as well as South America and Africa. Since l983 Garry has judged and given seminars at many taxidermy competitions in over 26 different states as well as regional, national and world competitions. He won Best of Show at the last two competitions he entered, one with a pair of capercaille grouse from Finland and the last with a trio of white faced whistling ducks that he collected in Zimbabwe. Garry won "Best in World Largemouth Bass" at the first World Taxidermy Championships. He has judged and given seminars at 10 World Taxidermy Shows. Garry has written articles on bird and fish taxidermy in Breakthrough and American Taxidermists magazines.
Waterfowl
One of Garry's major interests is waterfowl hunting and waterfowl taxidermy. He has collected and mounted all 34 species of North American ducks from spectacled eiders in the Bering Straits of Alaska to black belly whistling ducks in southern Texas. He has also hunted waterfowl several times in Africa and South America. If you want to collect prime specimens ask Garry for information of where and when to go.